A new era of asset ownership has arrived with the collaboration between Fine Art Dealerships, Private Art Collectors and Crypto Credits, the auction expert of (tokenized) art masterpieces. Through the use of fractional NFTs, owning real-world assets and co-owning exclusive collectibles of the world's most famous masterpieces is now within reach for the average person.
All assets offered in the sale are real, authenticated, appraised by industry experts, and stored in highly secured vaults. Each painting is available as fractional NFTs in digitized tokens, allowing buyers to purchase a portion of an asset to unlock its original version. This means that the cost of asset ownership is spread over a wide range of users, making it possible for a group of investors to own a piece of a real-world asset.
How it Works?
The outrageous prices of some NFTs exclude most categories of investors from being able to afford them. Fractionalization lowers ownership costs and makes NFTs accessible to a wide range of investors. In addition, investors can benefit from price rises of an NFT, as this automatically reflects on all of its fractions proportionally. e.g. Real-World Asset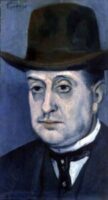 Pablo Picasso 
Size: 45 x 24.5 cm 
Style: Oil on Canvas 
Date: 1903/04 Blue Period 
Value: $35.000.000,00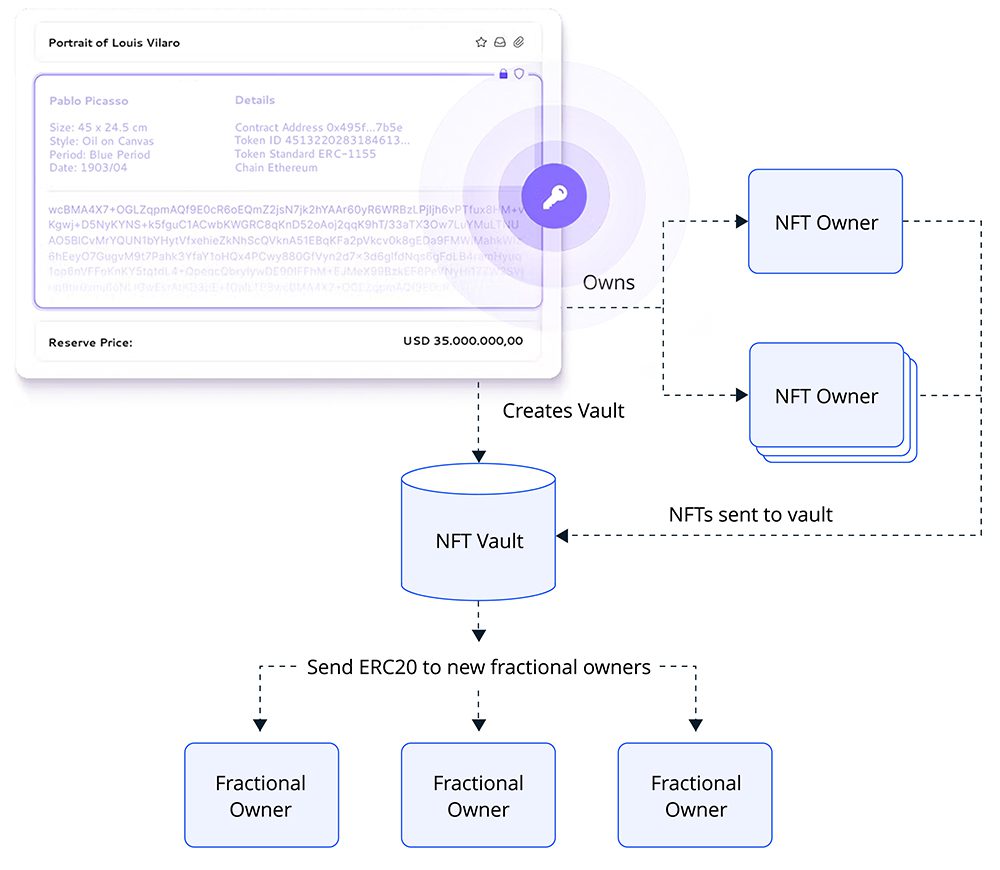 Fractional NFTs (F-NFTs) solve the NFT liquidity challenge through the ERC-20 tokens, which can easily be traded on secondary markets. Investors can purchase several fractions of an NFT immediately and trade them rather than wait for weeks or months to sell a whole NFT.
Fractional ownership is the way forward to enhance the size of the market, help adoption, and increase accessibility for a much wider audience to invest in assets more simply and easily. Investors can reap the benefits of asset ownership while reducing the amount of upfront capital required, creating more inclusivity.
Buyout Auction
A buyout auction operates similarly to a traditional auction, but instead of physical assets, it involves the trading of fractional non-fungible tokens (F-NFTs). When an NFT owner fractionalizes their asset, they set a reserve price for the complete asset, which serves as the minimum price they will accept when the NFT is auctioned. Interested buyers must bid an amount equal to or higher than this reserve price to acquire ownership of the NFT.
Existing fraction holders have the option to retain their fractional ownership, but they must outbid the potential buyer's offer to do so. If they fail to outbid the potential buyer, all individual fractions will automatically merge, and the NFT will be transferred to the buyer. Through the buyout option, the price discovery process takes place, contributing to the NFT's overall market value increase.
As an auction expert of tokenized art masterpieces, we believe that fractional NFTs are a game-changer in the art world. Through our collaboration with Fine Art Dealerships & Private Art Collectors, we can provide access to real-world & top-quality assets that were previously out of reach for many people. Our team is committed to providing the highest quality of authenticated assets, with fractional NFTs making it possible for more people to participate in the ownership of these real-world masterpieces.
The sale event will offer a diverse selection of art masterpieces, providing an opportunity for investors to own a real piece of history. The fractional NFTs will be available to purchase through OpenSea, where the sale already has started and is never ending on the blockchain.
For the sale and the assets available, visit https://opensea.io/collection/oldmasterpaintings